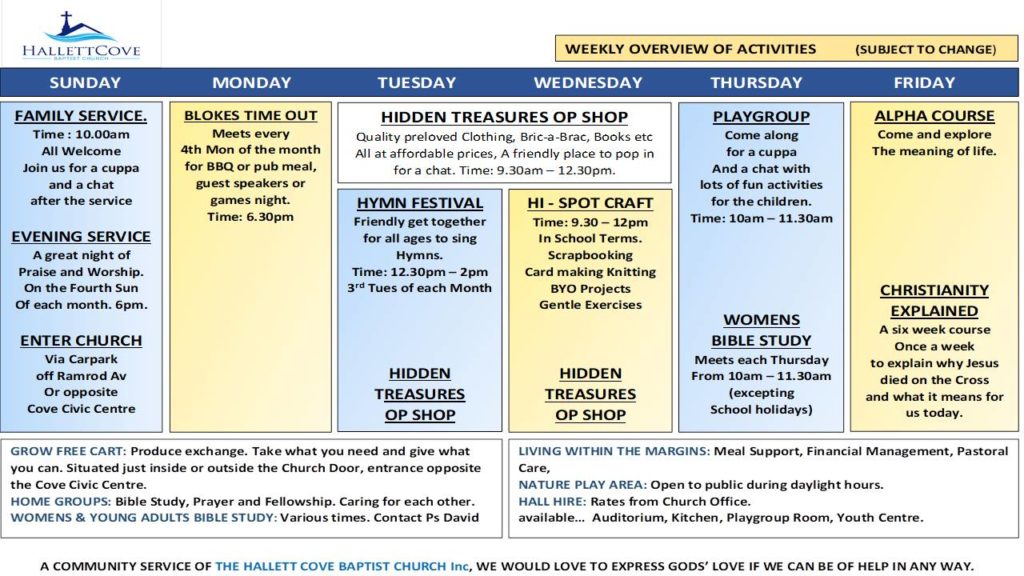 ENGLISH CLASSES will be held on Tuesday from 9.30am till midday. Cost is $5 per lesson. Please spread the word to anyone you know who may be interested in improving their English. Relaxed community based classes.
We have a prayer group that meets in the church at 1pm on Tuesday's all welcome.
LADIES' BIBLE STUDY is continuing the series on Christian Beliefs Thursday morning 11th August at 10am.
QUIZ NIGHT: To be held on Saturday August 20th commencing at 5pm with a sausage sizzle, then quiz at 6pm, thanks to the young adults group. Cost is $10 per ticket or $70 for a table of eight. Funds raised will support Baptist Missions Australia. Any queries, please see Anthony.
AGM on August 28th after the morning service. Please plan to attend if you are able as there are some important matters to attend to.
BLOKES TIME OUT: is on Monday August 29th commencing at 6.30 in the Cove Tavern for a meal.
MORNING TEA is on again at the church on 1st September at 10am. Come and have a chat and a cupper!
HOME GROUPS are a great way to learn and share together. Please consider either hosting or joining a home group this year. It would be great to have more groups and opportunities to invite others into fellowship. See Pastor David for more information.
OPERATION CHRISTMAS CHILD: It's time to start thinking about getting shoeboxes together for this year. We will have a packing day on Wednesday 5th October. Any queries, please see Linley.